Dec 4 2010 in Biometric Sensors by Rick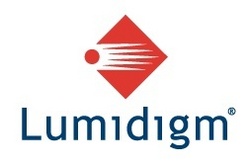 ALBUQUERQUE, N.M. (PRWEB) December 3, 2008
India has a diverse population, field environment and geography that can be challenging for many biometric scanners. "Before we were introduced to Lumidigm, we tested most of the common fingerprint sensors and were not at all satisfied," said Surender Reddy, Managing Director of Analogics. "Lumidigm came to us with a biometric sensor technology that is capable of solving problems, in India, with failure to enroll and failure to acquire in particular."
Mobile handheld biometrics can bring identity management to remote areas, extending services such as banking to communities that otherwise might not have access. Lumidigm and Analogics joined forces earlier this year to evaluate Lumidigm's fingerprint sensors in numerous applications in India including rural banking, college/school attendance, food ration cards (Civil Supplies), and construction site and factory access control. The multispectral biometric technology demonstrably out-performed the existing optical and capacitive sensor technologies in all deployment environments.
"The customers feel more comfortable due to the local presence and support of the remarkable multispectral fingerprint technology," said Mr. Reddy. "The Lumidigm scanners work on our most difficult-to-image users, making several applications a real possibility for the first time in India."
About Analogics
Analogics Tech India Ltd. delivers high-quality and innovative products and services of global standards at affordable prices. Incorporated in 1994, Analogics has over 300 efficient engineers and technicians. Analogics is the largest manufacturer and supplier of handheld terminals in India. For more information, visit www.analogicgroup.com.
About Lumidigm
Lumidigm, Inc. deploys biometric systems that work quickly and effectively on all people in all environmental conditions. Headquartered in Albuquerque, New Mexico, Lumidigm sensors are distributed worldwide. Lumidigm's initial venture capital investors are DFJ New England, Epic Ventures, and International Venture Fund. Other investors include Draper Fisher Jurvetson, Intel Capital, Methode Electronics, Motorola Ventures, New Mexico Co-Investment Partners managed by Fort Washington Capital, Solstice Capital, and Sun Mountain Capital.
Related Biometric Sensors Press Releases